Old Projects … the loft beds.
---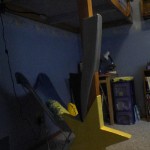 Loft beds … they can be such fun and a great way to increase usable space.
I was cleaning up some web space and found a handful of pictures from creating loft beds for my kids. It has been several years and both of them are ready for something new in their rooms.
My son's room is done to a music theme with a Hard Rock logo on the wall, a guitar for the loft bed ladder, and a music staff painted on the bottom of the bunk.
My daughter's room is a starry night theme. Her bunk ladder was a bit more work. I managed to create a falling star with three dimensional tails to work for the ladder.
A fun project that just might be for sale in the coming months.
So how do you price custom artwork?